Friendship Medal Handover Ceremony for Mr. Li Yuan Jun, Board of Directors of Shaanxi Fenghuo Co., LTD 7th July 2017 at Donchan Hotel, Vientiane capital, Lao PDR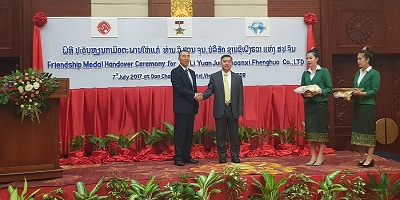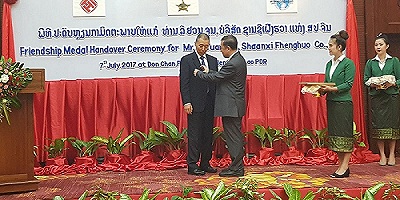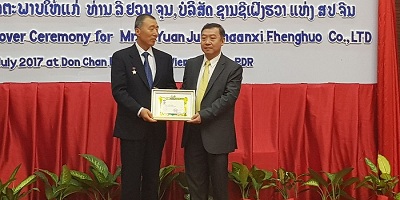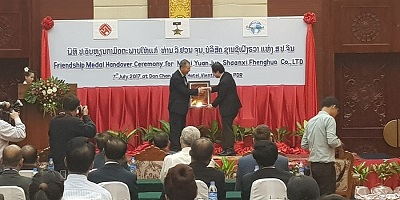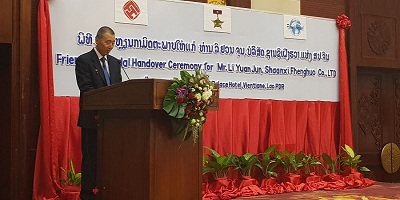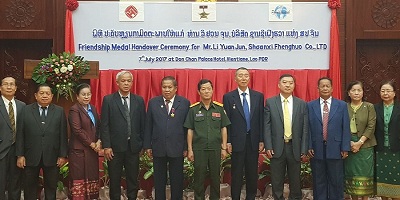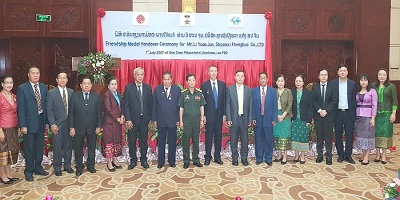 Major Chinese communication equipment producer, Shaanxi Fenghuo Company was awarded a Friendship Medal from the Lao government for its outstanding achievement in its work operation and cooperation with Lao government and local company, Phongsavanh Group.
The medal was awarded on Friday in Vientiane by the Lao government, represented by Prof. Dr Od Phongsavanh, the Committee Member of Lao Front for National Construction and Honorary President of Phongsavanh Group.
Receiving the honour on behalf of the company was Mr Li Yuan Jun, Deputy General Manager of Shaanxi Fenghuo.
Attending the handover ceremony were officials and representatives from government organizations and the two companies.
In the ceremony, Vice President of Phongsavanh Group, Mr Thetlakhone Douangsonthi said Phongsavanh and Shaanxi Fenghuo have closely cooperated and worked together successfully for more than 20 years.
They did so in the spirit of carrying on and tightening the historical relationship through bilateral cooperation between Laos and China.
Thanks to the collaboration between the two companies, they have tightened and strengthened fruitful efforts effectively and efficiently, as reflected in their outstanding achievements.
Shaanxi Fenghuo in partnership with Phongsavanh Group has run a representative office to conduct marketing, operate communication equipment production in Laos and invest in communication equipment to support national and public security works worth many billions of kip.
These achievements do not only support the two companies' growth but also contribute to improving public security and national security, help eradicate poverty among Lao people, and support socio-economic development in Laos.
"For our fruitful cooperation, I totally believe that in the next few years it will be intensified particularly on the establishment of modern communication equipment factory to meet Lao people's needs and to contribute to socio-economic development in Laos", Mr. Thetlakhone added.
"This will add the tremendous attempts to achieve the expected goals the government targets to make the nation graduate from the list of least developed countries by 2020 and completely eradicate poverty by 2030," Thetlakhone said.
"In doing so, the mutual relationship between two companies from Laos and China will be tightened and strengthened more and more."
Mr Li Yuan Jun thanked the Lao Revolutionary Party, the Lao government and the Lao army for all support and affirmation awarded to Shaanxi Fenghuo over very long time and also to Phongsavanh Group for overall cooperation and support rendered.
He said there remained a very long-term and deep-seated cooperative relationship between Laos and Shaanxi Fenghuo.
Since the times of the Revolutionary war in Laos, the party and army of Laos had used and operated transceivers produced by Shaanxi Fenghuo.
As such, Shaanxi Fenghuo is always proud to have been able to play its positive and continuing role in the Lao revolution and welcomes ever-deeper friendship "as we assist in improving and developing the communication on national defence of Laos," he said.
From the beginning of 1990's up to now and with the active assistance of Phongsavanh, Shaanxi Fenghuo has continued to maintain very close links.
"Through this collaboration, Phongsavanh Group makes significant contributions in deepening dependence and friendship with Shaanxi Fenghuo, and between our two countries as well," he said.
Currently, China is actively promoting the "Belt and Road Initiative".
"As a good neighbour and good partner of China tied by mountains and rivers, Laos is one of the core countries within the B&R," he said.
"I am willing to take such a good chance brought by the B&R and do my best to make more great contributions in strengthening the cooperation between Shaanxi Fenghuo and Laos, developing Lao national defence and deepening the friendship between China and Laos."
Phongsavanh Group has grown step by step under the founder's vision of conducting a profitable business enterprise, juxtaposed by bettering people's quality of life and consolidating economic expansion.
It has grown remarkably since diversifying into various business sectors including the timber industry, telecommunications, trading, construction, banking and finance, mining, oil and petroleum products, airlines, franchises, innovation, convenience stores, logistics, and insurance.
Its work in the timber industry emphasized on the export of processed wood, which ended in 2008 in line with the government's policy to preserve the country's forests.
Phongsavanh has participated in the socio-economic development of the country, paying taxes to the government annually.
It is a regular donor to ministries, organisations and the grassroots level and has assisted in times of natural disaster such as drought and flooding, as well as supporting national sports activities and important events.
To support the application of the Party's Three Builds directive, it has been active in providing loans at low-interest rates to farmers to help them invest and help reduce their poverty.
Last year the government offered praise and awarded several medals and certificates of congratulations to Phongsavanh Group.
Phongsavanh group has a record of mutually beneficial relationships and close coordination with partners from Vietnam, Cambodia, China, Russia, and Dubai in trade to explore potential opportunities for investment.
The group maintains representative offices in Vietnam, China, Thailand, Singapore, Malaysia, and Myanmar that have assisted Laos to raise its profile in the region and the international level.